Compact Hanger is the much-needed innovation that makes wardrobes more organized while saving space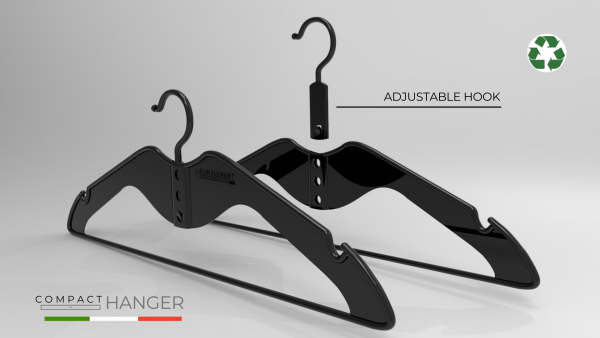 With all the new addition to clothing and accessories, it becomes rather difficult to keep our wardrobe tidy and organized. We invest in new organizers and cabinets to fit in our stuff, while it is the hooks and hangers that need the actual investment. It would come out as a surprise to see how much space one can save by purchasing the right type of hangers. With Compact Hangers, created by Andrea Giorgi, you will be able to save the maximum space in your wardrobe and your room.
The Compact Hanger comes with 3 levels adjustable hooks to make your collar shirts fit perfectly. It will create new space in your wardrobe by raising the clothes higher than the usual heights, making room for boxes, shoes, accessories, and t-shirts. These hangers are not just useful but come in great design too. The compact and elegant design of the hangers will blend in perfectly with any kind of interior. By using Compact hangers, you can roughly save as much space as for 80 t-shirts, 50 shirts, 24 pairs of trousers, 16 boxes, and 20 pairs of shoes.
Telling about Compact Hanger, the creator Andrea Giorgi says, "We have started to design Compact Hanger in 2019 when we realized how much space was lost in the wardrobe. We worked alongside a dressmaker who makes tailored shirts intending to design the perfect hanger, able to adapt to any hanging garment. After months of prototypes, tests, and changes, the compact hanger has been completed."
Andrea is an engineer who is working in a transport and logistics company. Her passion for innovation and designing products led him to design Compact Hangers. After receiving positive feedback from friends and family about the product, Andrea is now ready to launch Compact Hanger on Kickstarter.
Through the campaign, Compact Hanger aims at raising enough money that will cover the cost of production. You can get 10 Compact Hangers for $15 through the limited special offer. The product is shipped worldwide and the estimated delivery is October 2020.
More information about Compact Hanger and other rewards can be found on its Kickstarter page.
Media Contact
Company Name: Homplement Srl
Contact Person: Andrea Giorgi
Email: Send Email
Country: Italy
Website: www.kickstarter.com/projects/keytch/compact-hanger-the-worlds-most-space-saving-hanger?ref=5vmy00