128 Optically Isolated Inputs plus RS485 Port for Raspberry Pi
Cupertino, California – Sequent Microsystems released a 16-Universal Inputs board for Raspberry Pi. While existing digital data acquisition systems range around $10 per channel, the Sequent Microsystems's board achieves a price point of under $2 per channel for a full 128 channel system.
The basic Raspberry Pi can read 26 input signals through the GPIO header, but all GPIO pins are wired directly to the local processor. Some hardware is required to connect them to the real world.
Sequent Microsystems 16-Inputs for Raspberry Pi card has 16 optically isolated digital inputs. Each input can be individually jumper-selected to accept voltages either from 3 to 24 volts or from 24 to 240 volts, AC or DC. The card communicates with Raspberry Pi using only the I2C port, leaving all the other 24 GPIO pins available for everyone's use. It has also an RS-485 port, a power LED and a pushbutton that can be used to shut down the Raspberry Pi.
Using the 16-Inputs card anyone can build a scalable data acquisition system with industrial-grade pluggable connectors for under $2 per channel. everyone can stack from one to eight 16-Inputs cards on top of the Raspberry Pi and read from 16 to 128 digital inputs.
A Node Red interface allow users to display the status of all the inputs in real time in the browser. They can also read the 16-Inputs board using Command Line or Python drivers.
The MSRP for one card is $45, with substantial discounts for quantity orders. Each kit contains all the connector plugs and brass spacers required for mounting.
"The 16-Inputs card complements our line of Industrial Automation cards for Raspberry Pi", says Mihai Beffa, CEO and founder of Sequent Microsystems. "For a small system you can mount your 16-Inputs card directly to the Raspberry Pi. The free DIN-Rail mounting system included with multiple card orders provides the ideal mounting solution for larger systems", added Beffa.
Launched on Kickstarter on Feb 19th, the 16-Inputs card achieved the funding goal in less than 2 hours.
Video Link: https://www.youtube.com/embed/44tzcOzdA_U
https://github.com/SequentMicrosystems/
https://www.kickstarter.com/projects/279405789/128-opto-isolated-inputs-plus-rs485-port-for-raspberry-pi/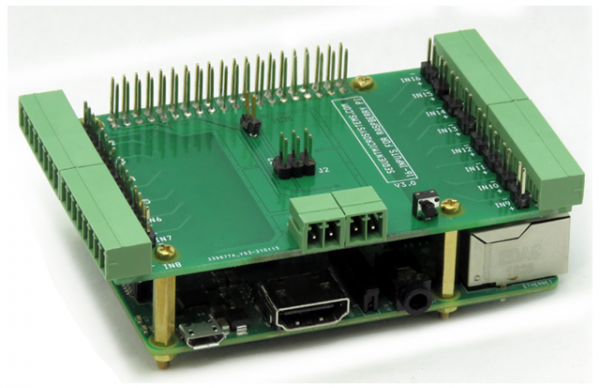 Media Contact
Company Name: Sequent Microsystems
Contact Person: Mihai Beffa
Email: Send Email
Phone: (408)982-6543
Country: United States
Website: https://sequentmicrosystems.com/