BIXB Aims to Facilitate Financial Activities Without Restrictions
Meta Description: Discover a new paradigm in finance through BixBcoin. Created by the MRM Group, it aims to facilitate financial activities without restrictions. Read more.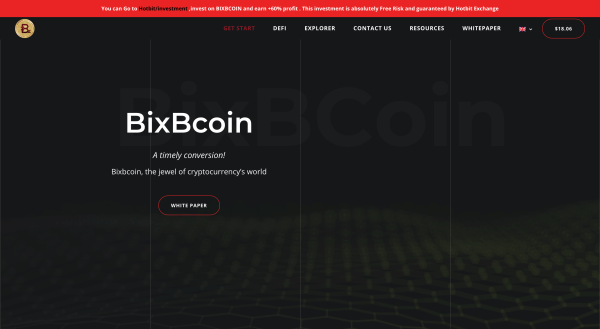 MRM Group created BixBcoin
BixBcoin aims to facilitate safe and quick financial activities without restriction
Back in 2019, a decentralized entity called MRM Group made BixBcoin with the goal of presenting a new paradigm in finance. Led by a distributed team located in various parts of the globe, BixBcoin's goal is to facilitate safe and quick financial activities that are free from restrictions from third-party entities such as governments.
According to the team, the most significant features of the platform are the BIXB blockchain and the BIXB wallet. The project's blockchain infrastructure enables users to have fast and low-cost transactions. Meanwhile, the BIXB wallet allows users to store, send, and receive BIXB, and is available on the web, Android, Windows, and Linux.
Aside from these, the platform has a deflationary mechanism — the BixBcoin has a limited supply of 3 million units. Subsequently, the team shared a lot of plans and projects including providing low-interest loans through Loanypto, providing an online payment gateway called BIXBPay, and becoming a token for online gaming.
In addition to this, BIXB is listed on different coin information and statistics websites like CoinMarketCap, CoinGecko, Nomics, Coincodex, and FX Empire to name a few. With this, users who are interested in BIXB can analyze the charts before buying, selling, or trading digital assets.
BixBcoin went live in March 2020 with an initial value of $25 as a fork of Litecoin. Constant developments have led the BIXB price to a great high that too in early 2021, it reached an ATH of $260 in May 2021.
The team behind BixBcoin has high ambitions and wants to explore more possibilities for investors to earn stable passive income through staking. With the successful launch of BixBcoin and reaching remarkable milestones in a short period, the team has announced the debut of a unique platform named Probix, allowing investors to earn through staking.
The platform is in the testing stage as the team believes in rigorous testing to sort out any glitches before letting users get their hands on the platform. With a strong community base, Probix has garnered more than 1000 registered users even before its official launch. It is available to participants from across the globe and presently supports over 178 countries.
With Probix, individuals can manage their investments from any location, at any time, from the comfort of their home or office, and get better returns and savings based on their specific needs.
Moreover, it offers daily payments and high-security transactions for its investors. Probix understands there is no better way to serve the customer without proper customer support, so it offers highly-trained customer support around the clock for investors worldwide.
There are preset packages available from Probix to make it easier even for a non-technical crypto enthusiast to generate revenue through staking BIXB. These packages are made available in limited quantities, with only a few left now. By staking the native BIXB coin on the Probix platform, investors can earn up to 275%, depending on the chosen package.
The packages start with staking a minimum BIXB coin of 5, yielding 135% per annum, to 275% with a minimum BIXB coin of 5000. Now that's a massive ROI. It also offers participants an affiliate and referral program to generate additional revenue. Probix allows unlimited withdrawal and a 24/7 instantaneous deposit feature to provide hassle-free withdrawal and deposit.
This article has been quoted from Investing.com.
Media Contact
Company Name: BixbCoin
Contact Person: Media Relations
Email: Send Email
Country: United Kingdom
Website: bixbcoin.io